Selling your product or service is fun, right? It's what you created and it's what you do best. And you get a lot of satisfaction providing your solution to your customers.
However, when you get to a point when you can't do all the selling yourself, you hire a salesperson and quickly learn that sales management can be a drag. Maybe the salesperson you hired didn't deliver. Maybe the salesperson isn't representing your company the way you want. Maybe you find you haven't hired the right kind of salesperson and you have a lot of turnover in this role. You get nothing but a lot of excuses.
Something needs to change! You need professional sales management, either in the form of hiring a full-time sales manager or enlisting the help of an outsourced sales leader.
What Are the Key Components of Professional Sales Management?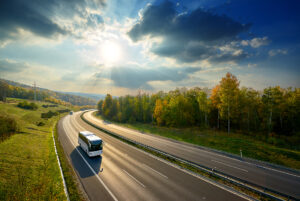 I like to use the "bus" analogy. Your company is the bus and as the leader, you are in the driver's seat. You know where you want to take your company – your destination. There are others on the bus with you who help you run your business: HR, finance, and ops people. But there are no salespeople on the bus. And there is no sales manager on the bus.
Where are they?
The salespeople are the wheels on the bus and the sales manager is your mechanic. The wheels enable you to move forward. A flat tire can really slow you down. Or your wheels may get out of alignment, pulling you to one side or the other. A professional sales manager fixes the things that affect your ability to move forward, enabling you to get to your destination.
How? Professional sales leaders create "sales infrastructure" that sets the sales team and the company up for success. This includes creating sales plans that align with company objectives, hiring and coaching the right sales team members, creating sales pipeline visibility using a CRM and creating a culture of accountability. 
What Should You Look for in a Professional Sales Manager?
There are lots of sales management styles, but the most effective are sales managers who have these top traits:
Takes full responsibility for delivering results via salespeople, not via directly selling.
Manages and coaches individually – develops team members while achieving goals.

Uses individual sales plans and 1:1s.
Coaches up or coaches out.

Spends time in the field with sales team members.
Uses pipeline visibility and sales reporting to identify and address problems early.
Celebrates successes publicly and addresses failures individually.
Hires the right sales talent and sets them up for success.
Balances sales team needs with organization's needs.
What Will Your Sales Organization Look Like with Professional Sales Management?
With the right professional sales manager, you will gain the ability to predict your future revenues, adjust and tweak your approach to make sure you stay on track for meeting your objectives, and have a smoothly running sales team.