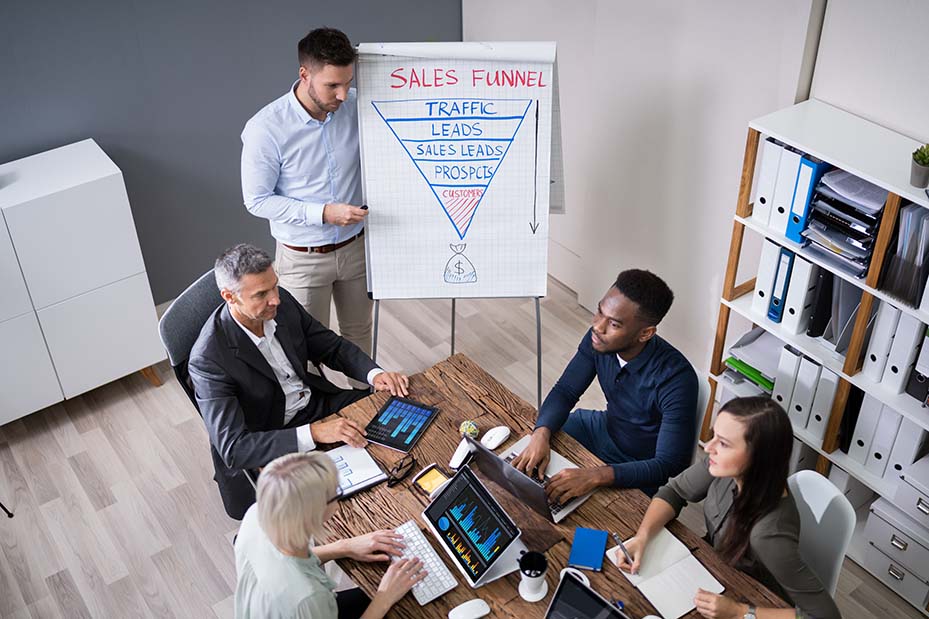 Lead generation used to fall squarely on the shoulders of sales reps. Afterall, their job is to get new business, so they should be able to bring in leads, right? 
Well, times have changed. Generating quality leads takes a specific messaging strategy and multichannel prospecting (email, LinkedIn, calling). Sales reps need to be good at moving people through the sales pipeline, but they often don't have the skills necessary to craft and conduct effective lead generation ideas. In fact, 40% of sales reps say lead generation is the hardest part of their job.
One solution: outsource the lead gen.
What is Outsourced Lead Generation?
Outsourcing your lead generation involves bringing in an outside company to research leads, drive them to your sales team, and trigger sales growth for your business.
Not all lead generation companies deliver what they promise, but those that do become an important part of your sales team. Look for a company that prioritizes transparency, quality over quantity, collaboration, and ideally has experience in your industry.
How it works:
They help you define your ideal client and decision-maker titles.
They craft impactful messaging that quickly and clearly identifies "why you."
They execute your sales prospecting activities across the most effective channels.
They deliver warm leads with high conversion rates.
In essence, they find the people who want what you offer.
For roughly the cost of one salesperson, you can hire an outsourced lead generation partner and enable your team to be more effective at what they do best: increasing conversion rates.
Is Lead Management Outsourcing Right for You?
According to 61% of marketers, lead generation is their number one challenge. It is time consuming, difficult, and there is no singular strategy to follow. Every company is unique, and an experienced lead generation partner will deliver the appropriate resources for small to medium businesses to accelerate growth.
You should consider lead generation outsourcing for your sales team if:
You lack the resources to hire and train new staff.
You want to incorporate new channels to supplement current internal marketing efforts.
You want to focus on booking appointments.
You are launching a new product or service.
You need to pivot the business.
Benefits of Lead Gen Outsourcing
Ultimately, the purpose of lead generation is to increase sales and overall profits. Lead management gives your sales team the tools, resources, and strategies to accomplish that. Studies found that companies with established lead generation processes see 133% more revenue compared to average companies.
Focus on selling: The average sales rep spends only a third of their day actually selling because of prospecting commitments. With lead generation management, your sales team can focus on selling.
Increase lead quantity and quality: Benefit from a stream of new, qualified leads that your sales team can bring through the pipeline.
Save Time and Money: With expert lead generators, you spend less time researching and more time selling. You are also growing sales without increasing your headcount.
Reduce Risk: Outsourced lead gen allows you to test new channels before bringing them in-house.
Long-term growth: The right lead gen company will work with your sales team and provide feedback and suggestions for improving your lead generation strategies to continue sales growth after your engagement.
Set your sales team up for lasting development, growth, and success with the help of an outsourced lead manager!
Are you ready to start thinking about lead gen differently? We've tried many resources with our clients, and we know the good ones. We can help you improve your conversion rates by using an outsource lead gen partner. Call us at 407-578-5277 or schedule a free consultation to learn more.